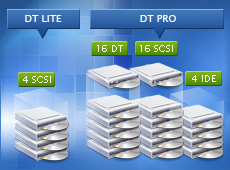 Do you feel lack of virtual drives for running different programs simultaneously? Then the best choice for you is DAEMON Tools Pro.
It will provide you with possibility to emulate up to 36 CD/DVD-ROM drives. A special feature will let you use 4 of them as IDE drives.
No disc changing is necessary from now, when you need a movie or some program — they are ready to use at any time!
Learn more
Compare